FOR IMMEDIATE RELEASE:
Thursday, August 25, 2022
MEDIA CONTACT:
Bethany Khan: bkhan@culinaryunion226.org ▪ (702) 387-7088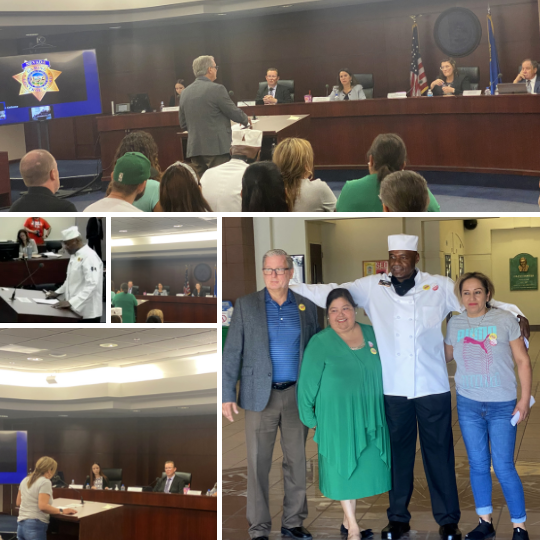 STATEMENT by Culinary Union Secretary-Treasurer Ted Pappageorge public comment before the Nevada Gaming Commission about Station Casinos shameful behavior towards their workers:
Five months ago, the Culinary Union submitted a letter to Nevada Gaming regulators about Station Casinos that made our position very clear: We believe regulators should regulate, and that means investigating Station Casinos and taking disciplinary action.
Since that letter was submitted, Station Casinos hospitality workers have come to every Nevada Gaming Control and Gaming Commission meeting to tell you why you need to act. They have not missed a meeting and they've shared with you how bad Station Casinos treats the workers that run the industry you regulate.
The Culinary Union has also brought evidence to the Nevada Gaming Commission that certain Station Casinos executives appeared to have had a hard time giving credible testimony under oath at a National Labor Relations Board proceeding involving Red Rock Casino Resort & Spa. The presiding judge in the case discredited the testimony of Station executives on multiple occasions in a decision that is currently under review by the National Labor Relations Board. We also showed how the company was absent when elected officials from the City of North Las Vegas had questions about the status of two of Station' Casinos closed properties, and couldn't provide answers to questions from the community at another meeting.
I'm attending the Gaming Commission meeting today with Station Casinos workers to get some answers. Frankly, Station Casinos workers and all gaming industry workers in Nevada have a right to know whether our state regulators have the power to discipline bad actors.
If you can't act or if you are powerless, we want you to tell us. If you are powerless, tell us what we can do to give you the powers to hold bad actors like Station Casinos accountable.
Station Casinos has a large footprint in the Las Vegas Valley and their shameful actions have a wide reach in our community. Our entire community suffers when bad actors like Station Casinos are not held accountable.
Station Casinos workers deserve so much better. Time and time again, they have stood up to this bad company. Workers are holding Station Casinos accountable and you all need to do the same.
If you're not able to hold Station Casinos accountable, say so. If license holders can do what Station Casinos did during the pandemic and continues doing now and you're not sure what you can do, tell that to the workers.
We think working people are owed some answers.
—
ABOUT CULINARY UNION:
Culinary Workers Union Local 226 and Bartenders Union Local 165, Nevada affiliates of UNITE HERE, represent 60,000 workers in Las Vegas and Reno, including at most of the casino resorts on the Las Vegas Strip and in Downtown Las Vegas. UNITE HERE represents 300,000 workers in gaming, hotel, and food service industries in North America.
The Culinary Union, through the Culinary Health Fund, is one of the largest healthcare consumers in the state. The Culinary Health Fund is sponsored by the Culinary Union and Las Vegas-area employers. It provides health insurance coverage for over 145,000 Nevadans, the Culinary Union's members and their dependents.
The Culinary Union is Nevada's largest Latinx/Black/AAPI/immigrant organization with members who come from 178 countries and speak over 40 different languages. We are proud to have helped over 18,000 immigrants become American citizens and new voters since 2001 through our affiliate, The Citizenship Project.
The Culinary Union has a diverse membership which is 55% women and 45% immigrants. The demographics of Culinary Union members are approximately: 54% Latinx, 18% white, 15% Asian, 12% Black, and less than 1% Indigenous Peoples.
Culinary Union members work as: Guest room attendants, cocktail and food servers, porters, bellmen, cooks, bartenders, laundry and kitchen workers. The Culinary Union has been fighting and winning for working families in Nevada for 87 years.
CulinaryUnion226.org / @Culinary226
###