Scroll down to read this message in Spanish. Vaya hacia abajo para leer este mensaje en español.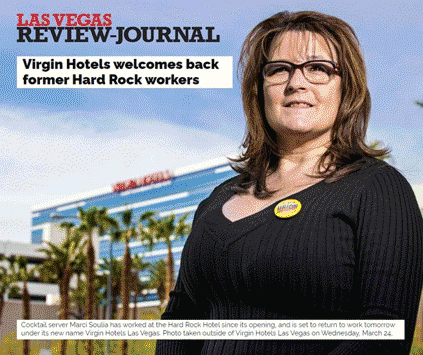 The Culinary Union fights every day for workers to have fair wages, job security, and the best health benefits. As the end of 2021 approaches, we wanted to share some of recent national and local news which highlight the POWER of our union and working families.
POWER OF THE RECALL LANGUAGE IN OUR UNION CONTRACTS -
Just days before the Virgin hotel's opening, Soulia said she is filled with "nervous excitement'' to get back to work after a year off.
"I've worked hard over the last 25, going into 26, years, and it means a lot to me," Soulia said about having her job back. "I think that I've earned it, and I'm just grateful for everything." She is one of more than 1,600 employees working this week as the Virgin Hotels Las Vegas opens its doors Thursday.
POWER OF LEGISLATIVE VICTORIES: RIGHT TO RETURN SB386 -
The Culinary Workers Union, which represents some 60,000 people who work in hotels here, said 98% of those employees, who are mostly Latino, Black or Asian American, were furloughed at some point during the pandemic shutdowns.
By this month, union officials said, only about half had been called back to work. The union urged state lawmakers in Carson City to pass a right-to-return law that would require employers to offer laid-off casino, hospitality, and travel-related workers in Nevada their old or similar jobs before opening the positions to new applicants. Late Monday, as the legislative session adjourned, lawmakers here passed the bill.
POWER OF OUR UNION DURING THE COVID-19 PANDEMIC -
When Mariza Rocha lost her job as a utility porter at The STRAT Hotel in March 2020, she turned to her union.
The Culinary Workers Union Local 226, the largest in Nevada, helped her get unemployment benefits and food assistance. In July, when Rocha was diagnosed with COVID-19, it fought to get compensation for workers like her.
And in the months that followed, Rocha became more active with the Culinary Union, volunteering regularly and even participating in political campaigning for the first time.
POWER OF WORKERS DEMANDING TO NOT BE LEFT BEHIND AS ECONOMY RECOVERS -
Thousands of Culinary Union workers took to the Las Vegas Strip on Friday to hold their first major major march since the pandemic began. The members of the Culinary Union marched along Flamingo Road to protect hospitality workers and their families. They chanted and held signs that read "We want to be part of the recovery, let's get back to work!"
POWER OF STATION CASINOS WORKERS WHO ARE ORGANIZING -
The Culinary Union on Monday applauded the ruling. "Just like Judge Navarro before it, the Ninth Circuit saw Station Casinos' grant of benefits right before the election at Red Rock for what it was — a poorly disguised effort to take away union power and to discourage workers from unionizing. This is another victory for workers who stood up and organized to have a union at Red Rock Casino," Geoconda Argüello-Kline, Secretary-Treasurer for the Culinary Union, said in a statement.
POWER OF THE COMEBACK -
6) In These Times: How the Mighty Culinary Union Survived the Apocalypse: (12/15/21)
After facing 98% unemployment in the depths of the pandemic, the strongest union in Las Vegas has risen again.
Virtually all of the employees of the Vegas Strip's famous casinos are members of the Culinary Union, which has spent the past 86 years building an organization of more than 60,000 hospitality workers in Nevada. Today, it is not so much a simple labor union as a full-service social service and political operation, with unparalleled efficiency in using labor power to create sustainable, middle-class lives for workers who would otherwise face low wages and indifferent prospects. Along the way, it has become the state's strongest political force pushing bread-and-butter progressive issues that help working people.
The Culinary Union is Las Vegas, and its fortunes rise and fall with the city. When the pandemic struck in full force in March 2020, the entire Strip shut down, a sight that rivaled New York City's empty Times Square for apocalyptic eeriness. That was the beginning of the union's greatest test...
---
El Sindicato de Unión Culinaria lucha todos los días para que los trabajadores tengan salarios justos, seguridad laboral y los mejores beneficios de salud. A medida que se acerca el final de 2021, queríamos compartir algunas de las recientes noticias nacionales y locales que destacan el poder de nuestro sindicato y las familias trabajadoras.
EL PODER DEL LENGUAJE SOBRE DERECHOS DE REINCORPORACIÓN EN NUESTROS CONTRATOS SINDICALES -
Apenas unos días antes de la apertura del hotel Virgin, Soulia dijo que está llena de "excitación nerviosa" por volver al trabajo después de un año de no trabajar.
"He trabajado duro durante los últimos 25, casi 26 años, y significa mucho para mí", dijo Soulia sobre recuperar su trabajo. "Creo que me lo he ganado y solo estoy agradecida por todo". Ella es una de los más de 1,600 empleados que trabajan esta semana mientras Virgin Hotels Las Vegas abre sus puertas el jueves.
EL PODER DE LAS VICTORIAS LEGISLATIVAS: DERECHO A REGRESAR SB386 -
El Sindicato de Trabajadores Culinarios, que representa a unas 60.000 personas que trabajan aquí en hoteles, dijo que el 98% de esos empleados, en su mayoría latinos, negros o asiático-americanos, fueron suspendidos de sus trabajos en algún momento durante los cierres por la pandemia.
Para este mes, los dirigentes sindicales dijeron, que solo alrededor de la mitad habían sido llamados para volver a trabajar. El sindicato instó a los legisladores estatales en Carson City a aprobar una ley de derecho a regresar que requeriría que los empleadores ofrezcan a los trabajadores despedidos de casinos, hotelería y empleados relacionados con el turismo en Nevada sus trabajos anteriores o similares antes de abrir las posiciones a nuevos solicitantes. El lunes a última hora, cuando se levantó la sesión legislativa, los legisladores aquí aprobaron el proyecto de ley.
EL PODER DE NUESTRO SINDICATO DURANTE LA PANDEMIA DE COVID-19 -
Cuando Mariza Rocha perdió su trabajo de utility porter en el hotel The STRAT en marzo de 2020, ella recurrió a su sindicato. El Sindicato de Trabajadores Culinarios Local 226, el más grande de Nevada, la ayudó a obtener beneficios por desempleo y asistencia alimentaria. En julio, cuando a Rocha le diagnosticaron COVID-19, lucharon por obtener una compensación para trabajadores como ella.
Y en los meses que siguieron, Rocha se volvió más activa con la Unión Culinaria, se ofreció como voluntaria regularmente e incluso participó en campañas políticas por primera vez.
EL PODER DE LOS TRABAJADORES QUE EXIGEN NO QUEDARSE ATRÁS MIENTRAS SE RECUPERA LA ECONOMÍA -
Miles de trabajadores de hoteles, casinos y restaurantes marcharon el viernes en el Strip de Las Vegas para llamar a los empleadores a que vuelvan a contratar a más personas que fueron suspendidas el año pasado debido a la pandemia de coronavirus.
EL PODER DE LOS TRABAJADORES DE STATION CASINOS QUE SE ENCUENTRAN ORGANIZANDO -
La Unión Culinaria aplaudió el lunes el fallo. "Al igual que el juez Navarro antes, el Noveno Circuito vio la concesión de beneficios de Station Casinos justo antes de las elecciones en Red Rock por lo que era: un esfuerzo mal disfrazado para quitar el poder sindical y para desalentar a los trabajadores a sindicalizarse. Este es otro triunfo para los trabajadores que se levantaron y organizaron para tener un sindicato en Red Rock Casino", dijo Geoconda Argüello-Kline, Secretaria-Tesorera de la Unión Culinaria, en un comunicado.
EL PODER DEL REGRESO -
6) En Estos Tiempos: Cómo fue que la Poderosa Unión Culinaria Sobrevivió al Apocalipsis: (15/12/21)
Después de enfrentar un índice de desempleo del 98% en las profundidades de la pandemia, el sindicato más fuerte de Las Vegas se ha levantado nuevamente.
Prácticamente todos los empleados de los famosos casinos del Strip de Las Vegas son miembros de la Unión Culinaria, la cual ha pasado los últimos 86 años construyendo una organización de más de 60.000 trabajadores de la industria hotelera en Nevada. Hoy en día, no es solo un simple sindicato sino un servicio completo social y de operación política, con una eficiencia incomparable en el uso de la fuerza de laboral para crear vidas sostenibles de clase media para los trabajadores quienes de otro modo enfrentarían salarios bajos y perspectivas indiferentes. En el camino, se ha convertido en la fuerza política más fuerte del estado impulsando temas básicos progresistas que ayudan a las personas que trabajan.
La Unión Culinaria es Las Vegas, y su fortuna sube y baja junto con la ciudad. Cuando la pandemia golpeó con toda su fuerza en marzo de 2020, todo el Strip se cerró, fue un espectáculo que competía con el Times Square vacío de la ciudad de Nueva York por el escalofriante apocalíptico. Ese fue el comienzo de la prueba más grande del sindicato...