FOR IMMEDIATE RELEASE:
Thursday, April 29, 2021
MEDIA CONTACT:
Bethany Khan: bkhan@culinaryunion226.org ▪ (702) 387-7088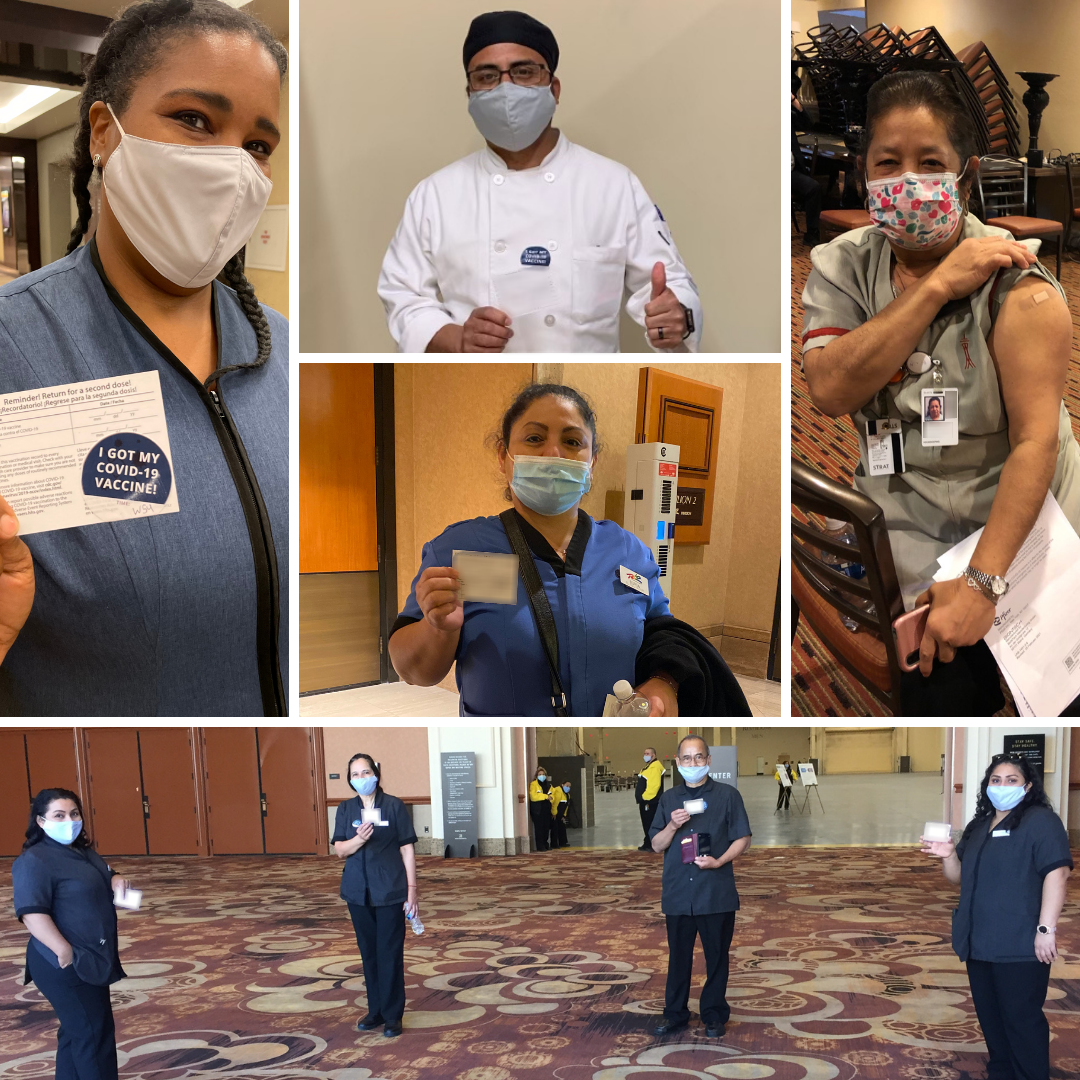 STATEMENT by Geoconda Argüello-Kline regarding COVID-19 vaccine efforts in Nevada:
The Culinary Union applauds Governor Steve Sisolak for his leadership and efforts to increase access to the vaccine, especially within Black and brown communities of color who have been disproportionately impacted by the effects of COVID-19.
Hospitality workers have had access to the COVID-19 vaccine since March 11, 2021 and as of April 5, 2021, any Nevadan 16 and older can be vaccinated. As hospitality workers and their family members get the vaccine, the Culinary Union continues to encourage workers to take advantage of on-site vaccine clinics at work whenever they are available.
The Culinary Union has held several virtual town halls in English and Spanish with thousands of workers over the past few months to hear directly from doctors, Immunize Nevada, Governor Sisolak, Culinary Health Fund, and health care professionals, to answer questions hospitality workers have about the vaccine, side effects, and fact checking myths. The Culinary Union has also sent out tens of thousands of emails/texts messages educating Culinary Union members and Station Casinos workers about the vaccine, notifying hospitality workers when they were newly eligible for the vaccine, informing employees about specific on-site vaccination opportunities at work, and letting the community know when special vaccination events are available.
The Culinary Union will continue to encourage hospitality workers and our community to become fully vaccinated as the COVID-19 vaccines are safe and effective. Getting vaccinated is a critical step to completely reopening Las Vegas, getting workers back to work, protecting our families, and helping our union stay strong.
Hospitality workers, sign up for a COVID-19 vaccine:
English: https://vax4nv.nv.gov/patient/s/vaccination-schedule
Spanish: https://vax4nv.nv.gov/patient/s/vaccination-schedule?lang=es
COVID-19 impact on Culinary Union members and immediate family:
130 Culinary and Bartenders Union members and/or their immediate family members have died from COVID-19, with 1,283 hospitalized due to the virus since March 1, 2020.
—
ABOUT CULINARY UNION:
Culinary Workers Union Local 226 and Bartenders Union Local 165, Nevada affiliates of UNITE HERE, represent 60,000 workers in Las Vegas and Reno, including at most of the casino resorts on the Las Vegas Strip and in Downtown Las Vegas. UNITE HERE represents 300,000 workers in gaming, hotel, and food service industries in North America.
The Culinary Union, through the Culinary Health Fund, is one of the largest healthcare consumers in the state. The Culinary Health Fund is sponsored by the Culinary Union and Las Vegas-area employers. It provides health insurance coverage for over 145,000 Nevadans, the Culinary Union's members and their dependents.
The Culinary Union is Nevada's largest Latinx/Black/AAPI/immigrant organization with members who come from 178 countries and speak over 40 different languages. We are proud to have helped over 18,000 immigrants become American citizens and new voters since 2001 through our affiliate, The Citizenship Project.
The Culinary Union has a diverse membership which is 55% women and 45% immigrants. The demographics of Culinary Union members are approximately: 54% Latinx, 18% white, 15% Asian, 12% Black, and less than 1% Indigenous Peoples.
Culinary Union members work as: Guest room attendants, cocktail and food servers, porters, bellmen, cooks, bartenders, laundry and kitchen workers. The Culinary Union has been fighting for working families in Nevada for 86 years.
CulinaryUnion226.org / @Culinary226
###