FOR IMMEDIATE RELEASE:
Thursday, September 7, 2023
MEDIA CONTACT:
Bethany Khan: bkhan@culinaryunion226.org ▪ (702) 387-7088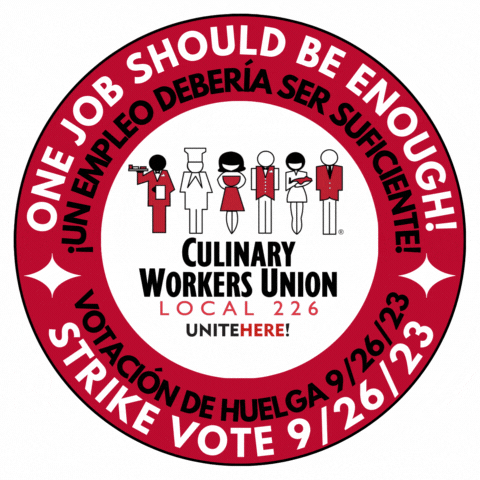 Culinary and Bartenders Unions announces a Strike Vote on September 26, 2023 for 53,000 hospitality workers, Unions continue fighting for the best contract ever to ensure that one job is enough -
Las Vegas, NV – The Culinary and Bartenders Unions have scheduled a Strike Vote on Tuesday, September 26, 2023 at Thomas & Mack Center on the University of Nevada - Las Vegas (UNLV) campus for over 53,000 hospitality workers.
On September 26, voting will take place in two sessions in the morning and evening. The public is advised to avoid the Las Vegas Strip and Tropicana Avenue (near Thomas & Mack and the Harry Reid International Airport) as tens of thousands of shift workers are expected to attend one of the two sessions and cast their votes. If a majority of workers between both sessions vote yes, then the Culinary and Bartenders Unions negotiating committee will be authorized to call for a strike. The Culinary Union has not yet set a strike deadline and continues negotiating in good faith with all gaming companies.
53,000 hospitality workers (based in Las Vegas) have their contracts up this year, are in active negotiations with casino/hotel employers, and are participating in the Strike Vote at Thomas & Mack on September 26, 2023:
LAS VEGAS STRIP -
*MGM Resorts International: Aria, Bellagio, Excalibur, Luxor, Mandalay Bay, MGM Grand, New York-New York, and Park MGM.
*Caesars Entertainment Corporation: Caesars Forum, Caesars Palace, Flamingo, Harrah's Horseshoe, Paris, Planet Hollywood, The Cromwell, and the Linq.
*Wynn/Encore Resorts
*Circus Circus
*Four Seasons
*Hilton Grand Vacations
*Mirage
*Rio
*Sahara Las Vegas
*Strat
*Treasure Island
*Tropicana
*Trump Hotel Las Vegas
*Virgin Hotels
*Waldorf Astoria
*Westgate
DOWNTOWN LAS VEGAS -
*Binion's
*Circa
*Downtown Grand
*El Cortez
*Four Queens
*Fremont
*Golden Gate
*Golden Nugget
*Main Street
*The D Casino
*Plaza
Citywide contract negotiations are led by Culinary Union Secretary-Treasurer and chief negotiator Ted Pappageorge and President Diana Valles, and also Bartenders Union Secretary-Treasurer Terry Greenwald and President Lana Loebig. There have been multiple rounds of negotiations with the top three employers on the Las Vegas Strip, but still no tentative agreement for a new 5-year contract has been reached.
In the 2023 negotiations, the Culinary and Bartenders Unions have proposed new 5-year contract language to provide greater measure of security for workers including:
*Winning the largest wage increases ever negotiated in the history of the Culinary Union.
*Reducing workload and steep housekeeping room quotas, mandating daily room cleaning, and establishing the right for guest room attendants to securely work in set areas.
*Providing the best on-the-job safety protections for all classifications, including safety committees, expanding the use of safety buttons to more workers, penalties if safety buttons don't work, enforce mandatory room checks for employee and public safety, more security personnel throughout the casino hotels, and tracking sexual harassment, assault, and criminal behavior by customers.
*Strengthening existing technology protections to guarantee advanced notification when new technology is introduced that would impact jobs, require training for new jobs created by technology, health care and severance pay for workers who are laid off because of new technology, the right to privacy from tracking technology introduced by companies, consent in third-party data sharing workers have generated through their work, right to bargain over technology that tracks location of employees or messaging between workers, and putting the human back into HR.
*Extending recall rights so that workers have more job security and have the right to return to their jobs in the event of another pandemic or economic crisis.
*Making clear that the no-strike clause does not prevent the Culinary Union from taking action, including strikes, against non-union restaurants on the casino property, and gives casino workers the right to respect picket lines.
"We are negotiating for the best contract ever in the Culinary Union's history to ensure that one job is enough. Companies are generating record profits and we demand that workers aren't left behind and have a fair share of that success," said Ted Pappageorge, Secretary-Treasurer for the Culinary Union. "As companies reduce labor, there are less workers who have even more responsibilities and are doing more work instead of spending quality time with their families, and that has to change. Workers have built this industry and made it successful and that's why we are demanding that workers share in that prosperity. It's disappointing that we are still so far apart from the casinos after months of negotiations with the largest three gaming companies in Las Vegas. Wages, benefits, workload reductions, technology protections, safety, bringing more workers back to work, and the right to strike are all strike issues and workers will be voting on September 26 to authorize the Culinary and Bartenders Unions to call for a strike. We are fighting to protect our good jobs with fair wages, job security, and great benefits so that workers and their families can thrive."
"Daily room cleaning is a safety and workload issue. When it's been three or four days since I've been assigned to clean a room, I'm never sure what I'm going to find behind that door. I worry that there could be a body, a totally trashed room, or a stash of guns like what was in the hotel room on October 1," said Evangelina Alaniz, a Guest room attendant at MGM Resorts International's Bellagio and Culinary Union member for 18 years. "My job got so much harder since the pandemic and I'm in constant pain at work. When I get home I feel guilty that I don't have energy to spend time with my son, help him with his homework, or even cook dinner some nights. Often, I have to go to bed so I have enough strength to go to work the next day and serve the guests. Which is why we won't stop pushing until we win workload reductions, daily room cleaning, and the protections guest room attendants deserve and need - that's why my co-workers and I are voting YES to authorize a strike."
"Safety is a major concern for workers on the Las Vegas Strip especially after the events of October 1. Since the pandemic, there has been a difference in guest behavior and a lack of security guards to deal with problems," said Aretha Wilder, a Cocktail Server at the Caesars Entertainment Corporation' Flamingo and Culinary Union member for 27 years. "Last year, there was an incident at a bar: A guest started shouting racial slurs at one of the cocktail servers who was behind the bar. He ended up spitting his drink on the waitress and trying to steal another guest's bag before leaving. We need to be better protected and safer while at work and that's why we are voting YES to authorize a strike and win the best contract ever!"
"Strengthening the protections that we already have in our contract is important to me as the company continues to implement new technology," said LaDonna Teeters, a Bartender at MGM Resorts International's Park MGM and Bartenders Union member for 28 years. "Technology is here and we have to think about what the next 5 years will bring. We need to continue to have advance notice of any new technology coming into the workplace, the right to negotiate over new technology that is going to be implemented, have access to and re-training for any new jobs created because of technology, and a safety net which includes severance and health care if jobs are eliminated. My co-workers and I are voting YES to authorize a strike so that our jobs remain good union jobs and that one job is enough to provide for our families."
"It's important to me to win the best contract ever because the cost of living and expenses have really gone up. I want to be able to send my son to college soon, so I need better wage increases to be able to plan and save for that day," said Francisco Parra, a cook at Caesars Entertainment Corporation's's Paris and Culinary Union member for 24 years. "I believe one job should be enough for a person to support their family and having higher wages would help me pay mortgage, put food on the table, and gas in my car. I have a wife, a family, and we have a home, which is why I'm voting YES to authorize a strike to help my family and I have a better life."
"As a tip earner, it's important for my co-workers and I to have greater transparency on tip allocation and are safer at work," said Chelsea Macdougall, a Food server at Wynn/Encore Resorts' Delilah and Culinary Union member for 3 years. "I'm proud of the work I do and the success I've helped build for this company, but workers can't be left behind as Las Vegas recovers, that's why I am an active union member and using my voice to vote YES to authorize a strike so that one job is enough."
The Culinary Union is the largest labor union in Nevada and alongside the Bartenders Union Local 165, represents 60,000 guest room attendants, cocktail and food servers, porters, bellmen, cooks, bartenders, laundry and kitchen workers statewide in the Battle Born State.
Culinary Union has a long and storied history of successfully striking and winning for workers in its 88 year history. In 1984, 17,000 Culinary Union members had a Citywide Strike across the Las Vegas Strip for 67 days which crippled in the Las Vegas hospitality industry until contracts were settled. The most recent Culinary Union citywide Strike Vote was in 2018 when 25,000 workers packed the Thomas and Mack and an overwhelming majority voted yes to authorize a strike. During the 2018 negotiations, Culinary Union won the strongest and most comprehensive immigration, sexual harassment, automation & technology protections, and safety language in the history of any union in the United States.
Coming to Las Vegas? Protect your travel plans by checking www.VegasTravelAlert.org, a website intended as a service for meeting/convention planners and all other travelers who need to know whether labor disputes could impact travel plans in Las Vegas. The website will be updated regularly with information as to which casino resorts are facing an active labor dispute as negotiations continue for new collective bargaining agreements covering 53,000 hospitality workers.
—
ABOUT CULINARY UNION:
Culinary Workers Union Local 226 and Bartenders Union Local 165, Nevada affiliates of UNITE HERE, represent 60,000 workers in Las Vegas and Reno, including at most of the casino resorts on the Las Vegas Strip and in Downtown Las Vegas. UNITE HERE represents 300,000 workers in gaming, hotel, and food service industries in North America.
The Culinary Union, through the Culinary Health Fund, is one of the largest healthcare consumers in the state. The Culinary Health Fund is sponsored by the Culinary Union and Las Vegas-area employers. It provides health insurance coverage for over 145,000 Nevadans, the Culinary Union's members and their dependents.
The Culinary Union is Nevada's largest Latinx/Black/AAPI/immigrant organization with members who come from 178 countries and speak over 40 different languages. We are proud to have helped over 18,000 immigrants become American citizens and new voters since 2001 through our affiliate, The Citizenship Project.
The Culinary Union has a diverse membership which is 55% women and 45% immigrants. The demographics of Culinary Union members are approximately: 54% Latinx, 18% white, 15% Asian, 12% Black, and less than 1% Indigenous Peoples.
Culinary Union members work as: Guest room attendants, cocktail and food servers, porters, bellmen, cooks, bartenders, laundry and kitchen workers. The Culinary Union has been fighting and winning for working families in Nevada for 88 years.
CulinaryUnion226.org / @Culinary226
###